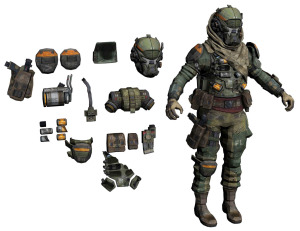 Costume Elements
This costume will be made from 3D printed pieces, Worbla, EVA foam, and fabric components.  Right now I'm planning the helmet, air tank, and booster jet to be 3D printed.  The booster jet cover will be made from real fabric.  The shoulderpads & kneepad will be Worbla, and the chest armor will be EVA foam.  I'll decide on the rest of the bits as I get to them.
Pilot Helmet
The pilot helmet will be the biggest project of this build, and I've started on it first.  Below you can see the game model vs my high poly model.  I started by taking the low poly shell & smoothing it out in Wings 3D.  Wings is a free program but has a very nice & easy to use smoothing tool.  You can specify edges that you want to remain crisp.  After doing that, you can smooth the rest of the geometry.
I use 3D Max 2009 for the majority of my 3D modeling.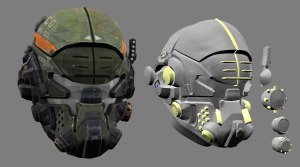 The yellow geometry in the comparison photo are going to be cut out of the grey pieces.  I save the boolean operation for NetFabb because it's boolean tool is much more efficient & stable than the boolean tool in 3D Max 2009. (aka, less likely to crash when doing complex booleans!)
Obviously, you can't print the entire helmet at once on the Makerbot Replicator 2X.  The helmet shell is broken into sixteen pieces, plus the two pieces for the left ear light, five plugs/vents, and two earpieces.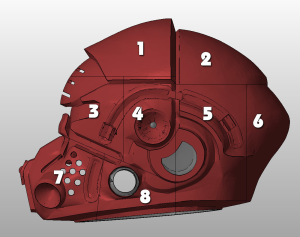 Below is the main shell assembled.  I've filled the gaps between pieces using bondo, but haven't begun to smooth the surface.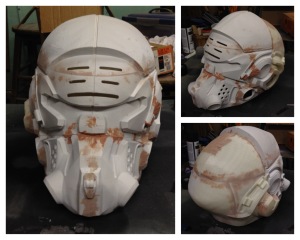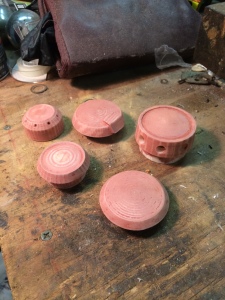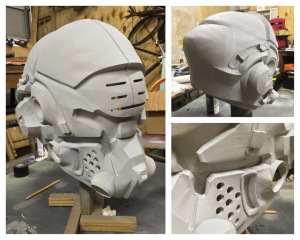 This photo show the helmet with the joints bondoed smooth.  I sprayed the helmet with a coat of filler/primer so I could see how much cleanup it would need.
You can really see the faces of the model in the upper right photo.  I think I'll up the poly count the next time I do a curved surface like this.  LOL, I'm just not used to the ultra high poly counts you can have with modern computers & software!  I'm still trying to make low poly models that a 1990's PC can handle!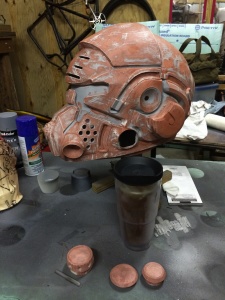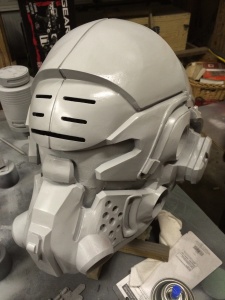 Air Tank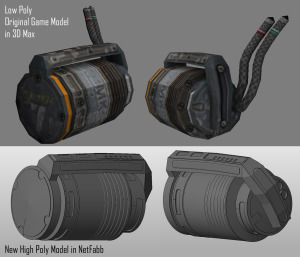 This model was so low poly I just decided to rebuild it.  Fairly easy to do.  The cool bit was making the side bar lock into the side/top of the canister.  This will make the seam sturdier when glued.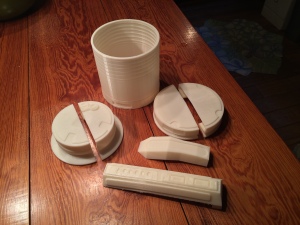 I had hoped to print the top/bottom as single pieces.  I was concerned that I would have too many supports to clean up.  Laying the bottom edge on the print platform would have risked warping the part.  In the end, I decided to split the top & bottom.  It's a bit nasty seam to clean up, but gave me a better surface quality for the rest of the part.