Equipment Display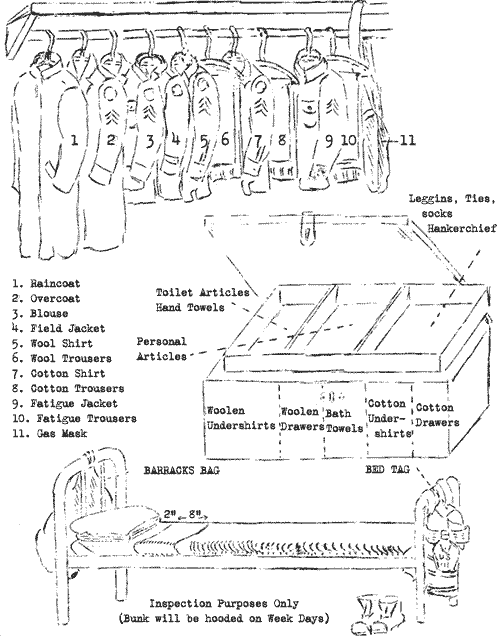 Notice that the Pillow is exposed only when the barracks are due for an inspection.
Otherwise, the second blanket is used to "hood" the pillow. The 2nd blanket is folded & placed under the pillow during inspection. Also note that there's not a specific layout for the top tray of the footlocker...only the three divisions of items.

Roll Mouse Over Equipment to see item name
---
Equipment Layout from Ordinance Soldier's Guide
Notice that the Ordinance Soldier's layout shows the First Aid Kit & Canteen on the opposite side from the display above. It also shows the soap box open, while the display above shows it closed. It also notes that the razor should be blade up.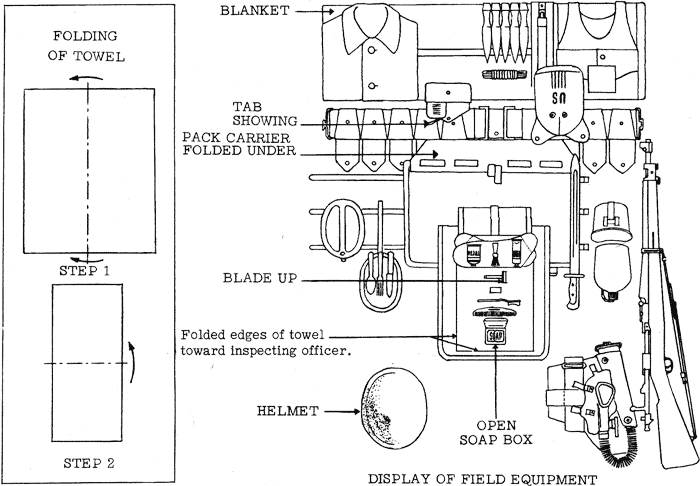 RESPONSIBILITY FOR PROPERTY: Clothing and equipment issued to you are government property. If any articles are lost or damaged through your fault or negligence you will be required to pay for them. If you were responsible for the loss or damage, through fault or negligence, then you should admit that fact by signing a "Statement of Charges ." If, however, you believe that you were not responsible, do not sign this statement. In this case a "Report of Survey" will be made out and a Surveying Officer will determine whether or not you are to be held responsible. When articles of clothing or equipment have become worn out through ordinary wear and tear, no one is held responsible for the value and the worn articles may be exchanged for new ones.
Equipment Vendors:
H.J. Saunders US Military Insignia On Line Catalog
Ebay
At The Front - repro/original WW2 Uniforms & Insignia
Reproduction K-Rations - great food for the field!
Bayonet, Inc - Repro WW2 GI & German Field Gear